November 1, 2016

by Rosalin Moss

Patricia Neely-Dorsey

Always, Always Celebrating the South and Promoting a Positive Mississippi




<![if !vml]>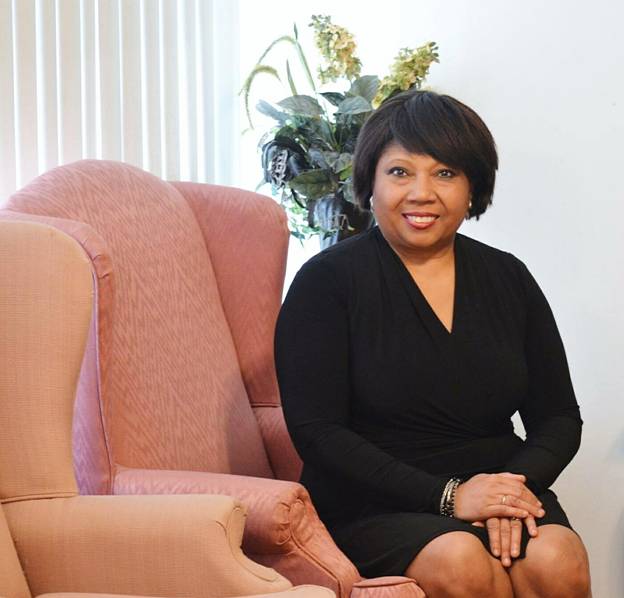 <![endif]>

Patricia Neely-Dorsey, Author and Poet

What a pleasure it was to finally have a chance to speak with Mississippi poet and author Patricia Neely-Dorsey. Patricia has a genuine love for our home state of Mississippi, so it was quite a delightful experience as we talked about the things that make Mississippi such a unique place. And, by the end of our conversation, it was crystal clear that Patricia Neely-Dorsey was "Mississippi" to the bone.

Patricia grew up in Tupelo, Mississippi, with her father James Neely, a medical doctor, and her mother Elaine Neely, a school teacher, along with her older brother Brian. Patricia's interest in poems began when her father read poetry to her as a young girl. She remembers her father reciting poems to her in the mornings as he shaved and got ready for work, his booming voice and animated illustrations making it all so very interesting and exciting. Later, she and her father would recite poetry together, taking turns delivering the verses of a poem. Her father's favorite poem to recite to her was When Malindy Sings by Paul Laurence Dunbar.

Patricia Neely-Dorsey's love for the melodious written word never grew dull and she continued to enjoy poetry as she earned her High School diploma from Tupelo High School and her Bachelor of Arts Degree in Psychology from Boston University in Boston, Massachusetts. Some poets she loved to read were Maya Angelo, Nikki Giovanni, Emily Dickinson, Edgar Allan Poe and Paul Laurence Dunbar. Other writings that are memorable for Patricia are Coming of Age in Mississippi by Anne Moody, Maya Angelo's I Know Why the Caged Bird Sings, and Margaret Walker's Jubilee. "I loved the way that I could relate to the storytelling of a southern life that I knew," Patricia recalled.

After living in Memphis, Tennessee, and working in the mental health field for almost 20 years, Patricia returned to her home state of Mississippi in 2007 and now lives near Tupelo with her husband James and son Henry.

<![if !vml]>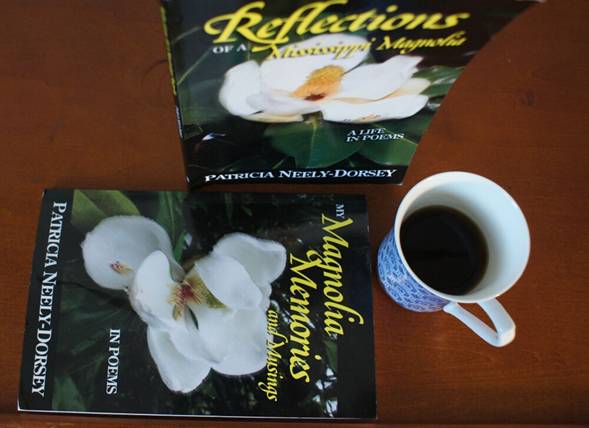 <![endif]>
Reflections of A Mississippi Magnolia - A Life in Poems
My Magnolia Memories and Musings
<![if !vml]> <![endif]>
When I asked Patricia how she got started writing poems about Mississippi, I expected her to tell me a Mississippi story about a Mississippi person or a Mississippi place or a Mississippi thing that sparked her penning of Mississippi poems. Instead, Patricia said she had never, ever thought about writing anything until one morning in February of 2007, a few months before moving back to Mississippi. It was around Valentine's Day when she had been reading some poetry the night before, and upon arising that morning she wrote her first poem, which was a love poem titled Our Place. Patricia was actually amazed at her own self because she had sat down and written an entire poem, later wondering where it had come from. In the following weeks and months, she went on to write several more poems related to love, relationships and life in general. After moving back to Mississippi in August of 2007, her writing became more southern in tone and eventually evolved into poems specific to Mississippi and her childhood years growing up in Tupelo. The Magnolia Tree and The Cat were among the first of her southern poems. With encouragement from friends and family, in 2008, Patricia published her first book, Reflections of a Mississippi Magnolia: A Life in Poems, which she refers to as a love letter to the south. Her poems are a testimony to her happiness and pride in being southern and Mississippian, and she does not apologize for her genuine pleasure and gratitude for having experienced a perfect Mississippi childhood and a good Mississippi life in general. Patricia later published her second book, My Magnolia Memories and Musings, in 2012.
I particularly wanted to know what motivated Patricia Neely-Dorsey to write and speak such positive things about Mississippi when there is so much negativity associated with the Magnolia state. What is she thinking and feeling as she writes those nostalgic and charming verses about Mississippi? "There is a flip side to every coin", she said. Patricia went on to say, "I'm sure you have done something you might not be so proud of, but what if that was all people had to say about you? What if they never said anything about all the good things that you have done?" Well, I suppose that said it all very well. Patricia chooses to write about the positive side of Mississippi, and she does so primarily because that is what resonates with her the most about her beloved State of Mississippi. "Mississippi's hospitality and family life are second to none", she said with genuine passion. Her poems are an expression of her love for a place she wants the world to know is full of good people, good places, good food and good times.
Patricia's enthusiasm for Mississippi and southern life has earned her the title of Mississippi's Goodwill Ambassador, appointed by Mississippi Governor Phil Bryant in February 2015. She has spoken before numerous audiences in the promotion of Mississippi and the southern way of life. Several of Patricia's poems are currently being used as educational tools in U.S. schools and schools abroad.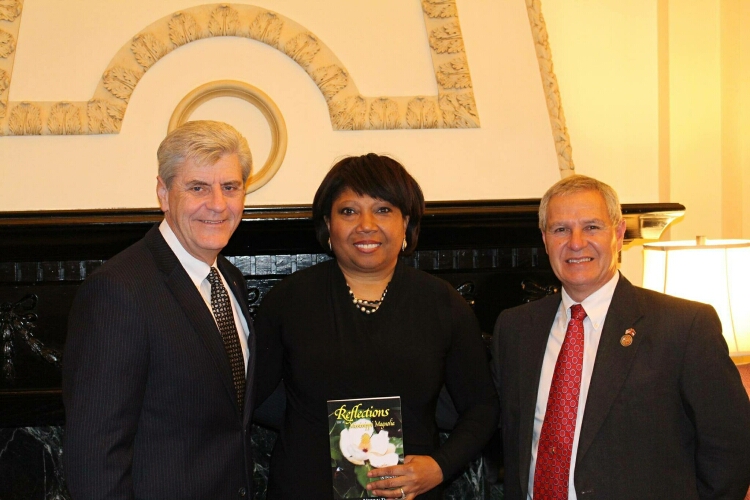 Mississippi's Governor Phil Bryant, Patricia Neely-Dorsey, Representative Randy Boyd
Because some outsiders view Mississippi in a negative manner, I asked Patricia what would be the most positive thing she would want to impress upon the world about her home state? She said without hesitation that her poem "Meet My Mississippi" says it all and highlights some of the most important and positive characteristics about Mississippi. The poem puts a spotlight on Mississippi's literary giants Faulkner and Welty, and entertainment icons Elvis Presley and B. B. King, as well as some of Mississippi's other attributes such as beautiful scenery, historical sites, folklore, unmatched hospitality and more. And, because she believes that "Meet My Mississippi" represents Mississippi so well, Patricia is working on getting the poem reviewed by the Mississippi State legislature for consideration in becoming the State Poem. Patricia is urging all Mississippians to help make "Meet My Mississippi" the State Poem by contacting their State Representatives and lettiig them know that you support making "Meet My Mississippi' the Mississippi State Poem. "Meet My Mississippi" is an invitation to the world to come and experience the best of Mississippi.
Please contact your State Representatives in
support of making "Meet My Mississippi" the State Poem.
Visit Meet My Mississippi for State Poem Faebook page
When asked if she would change anything about Mississippi, Patricia said, "Of course, every place has room for improvement, but what I would change most about Mississippi would be the outlook, the perception. The perception is what keeps people away. If the perception was positive, it would bring industry, people, opportunities." She went on to emphasize that the perception is not necessarily what is really going on in Mississippi. It gives Patricia a lot of joy when others, as she put it, "see a side of Mississippi they never knew existed", through her poems.
Patricia also has a passion for thrift shopping. Even though she grew up in a home where she did not have to worry about how much anything cost, Patricia has developed a love for finding fantastic attire at bargain basement prices. Take a look at this article "Down South Diva on a Dime" for some tips on the art of thrift shopping. And this one, A Must Have Mindset for Thrift Shopping. A group of Patricia's followers asked her to give them a first-hand lesson in thrift-shopping, so she took them on a shopping excursion that turned out to be a blast and the ladies loved all the thrifty advice they got. Take a look at the photo below and you will see why this lady is an expert at being a Diva on a Dime!
<![if !vml]>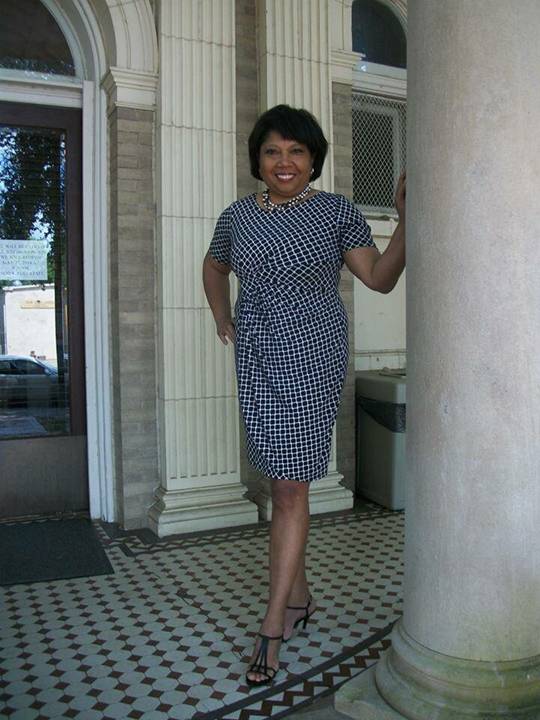 <![endif]>
Patricia sporting her fantastic finds.
One of my standard things to ask during an interview is what advice one would want to give to the world in general, and Neely-Dorsey's response was "Do you, be you. Be the best that you can be. Know who you are and accept who you are, the good and the bad." She also added, "Don't let others put a value on you." Patricia is certainly not letting anyone put a value on her when it comes to Mississippi. Regardless of how flawed some say life in Mississippi is, she states emphatically that she is a happy person and she is happy living in Mississippi.
Patricia Neely-Dorsey is most certainly a happy person and it is hard to imagine her writing about something other than happy things. While some dwell on Mississippi's flaws, Patricia spreads the word about Mississippi's good. It is not hard at all for Patricia to celebrate Mississippi and the south because she has seen and heard, tasted, smelled and felt all that she writes about. She credits her father for giving her a sense of enjoying life and nature each and every day, and you can sense this in her poems, the wonderment, the curiosity, the awe of life. "Sometimes I get chills just relishing in it all," she said. Her poems are personal, a display of her love for the south and being a southerner. She cannot adequately explain Mississippi's charm, that inexplicable "something" that captivates so many, but what Patricia can say is, "Mississippi speaks to me, and what it says is this is where I belong."
--Rosalin Moss aka Mississippi Traveler
November 1, 2016