January 15, 2017
by Rosalin Moss
This Lady Hunts
Marian Ann Love
<![if !vml]>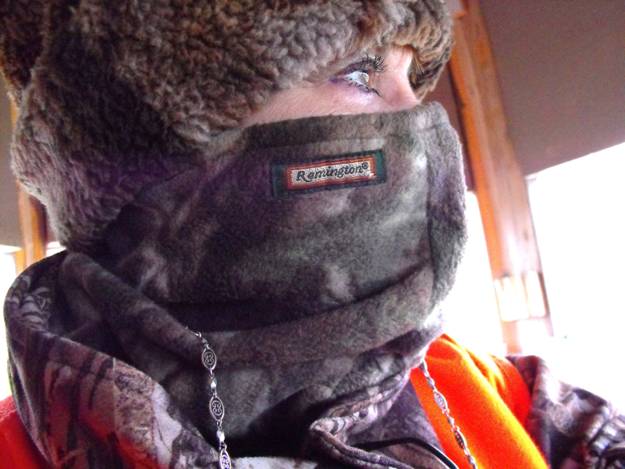 <![endif]>
Marian Ann Love, Hunter
Marian Ann Love has a sweet and gentle voice that would never give you a clue that she is a great hunter who has brought down an 8-point buck with a single shot. Not many women can boast about bringing home the bacon while it still has on its fur, but Marian Ann Love sure can! And, since I had never met a female hunter before, I wanted to know all about how she got interested in such a male-dominated activity.
Born and raised in Vicksburg, Mississippi, Marian Ann Love had a loving and sheltered childhood. Her father did not hunt but she remembers her mother occasionally doing some squirrel hunting. Marian herself had never done any hunting. She married a local man and together they had five children, and she spent most of her time attending to her husband and children for the next several years, never having a thought about hunting. It was not until after a divorce and marriage to her second husband, Bob, that she was introduced to hunting. At first, she was just a companion while her husband hunted, bringing along her cross-stitch projects to keep her occupied. It was not until she told Bob one day that she could be a hunter, that he started teaching her how to shoot a gun. She was later surprised and pleased to learn that she had an eye and a stomach for bringing home the meat. "I didn't know I had it in me until I actually did it," she said. "I just knew I loved the outdoors, all of nature. I feel close to God in the woods, with all the things that God created."
<![if !vml]>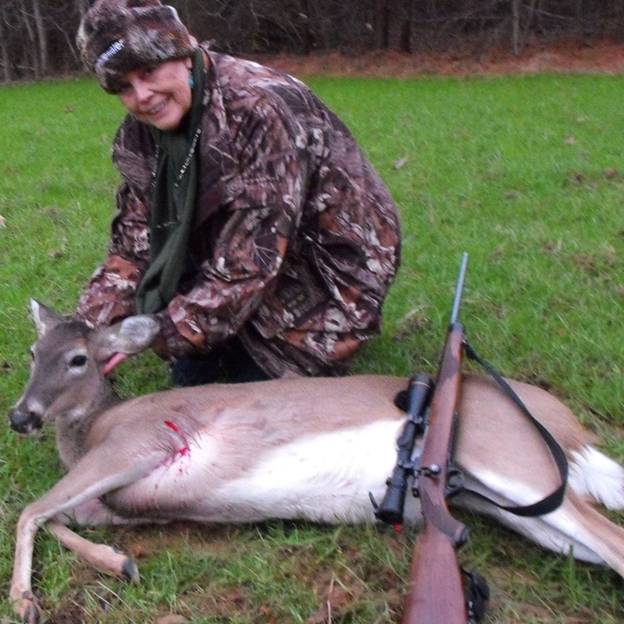 <![endif]>
<![if !vml]> Marian with a doe.<![endif]>
Her first kill came on the day she first climbed into the deer stand that her husband had built especially for her. It had been a wet and stormy day, and all of the other hunters around them had left because of the bad weather. She and Bob decided to stay for a while longer, waiting out the storm. Finally, they made their way to her deer stand, and he went further down to hunt standing up against a tree, and to smoke a cigarette. Almost as soon as she had gotten into the deer stand, she saw a buck walk out in the near distance. She could not believe her eyes, she kept calm, relying on all that she had learned and her natural instincts, as she sighted the buck and shot the .243 rifle. The calmness disappeared and her legs were like jelly, but she climbed down from the stand and went to where the deer had been. She saw the blood, but the deer had run off. She reached down and put her hand into the blood and slapped it on her face. She laughs as she remembers it now, saying "I initiated myself!" The 6-point buck had only managed to go a short distance before it succumbed to the gunshot. Marian was very proud and happy about her first kill as a hunter. She proudly took the buck around town on the back of their pickup truck to show several friends and relatives. She even has a picture of her and her father with that first kill. "My father never hunted, but he said he was proud of me," she reminisced. She had her 6-point buck mounted.
<![if !vml]>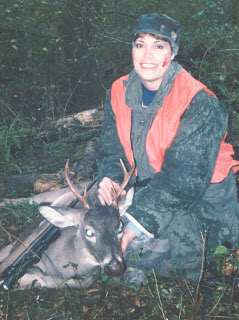 <![endif]>
Marian with her first kill, a 6-point buck.
After downing her first buck, Marian went on that very next weekend to kill another deer, and her hunting days just took off from there. She has been hunting ever since and enjoys it thoroughly. It is not necessarily the killing that Marian enjoys, rather it is her connection with nature and all that comes with it. However, she does not deny that there is an excitement in the hunt, saying "It gets into your blood and you can't get it out of you." She said she is just like one of the guys when it comes to hunting and she has no problem keeping up with her male counterparts. "The main thing is to shoot deer for food for my family," she says.
<![if !vml]>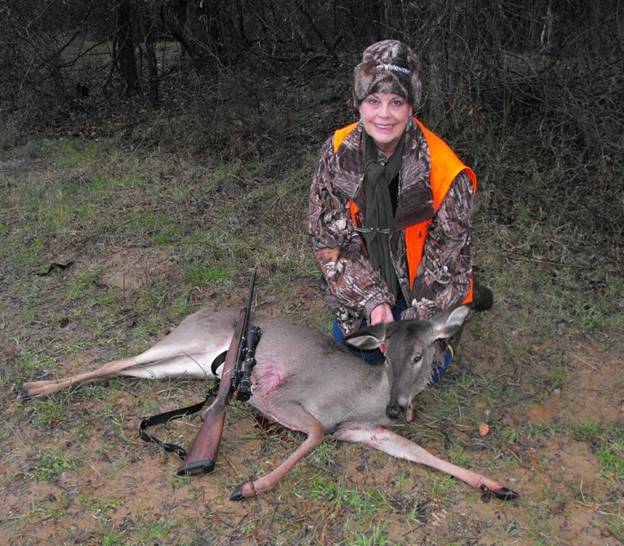 <![endif]>
Marian with a doe.
Love has learned to use several types of guns over the years, starting with the .243 rifle she used for her first kill. She has also hunted with a 30.06 rifle, a .45.70 muzzleloader, a shotgun, a bow and arrow, and the .270 Ruger she uses today. Obviously a good markswoman, she has gotten over 40 does, and three 8-point bucks -- one being a 190-pounder -- since that first 6-point buck. And, not only does she hunt, she has skinned an gutted an animal and said that she is not bothered one bit by doing such tasks. She has also gotten some experience at hunting wild hogs, and once brought down two at one time in 2016, with one being a 185-pound sow. Also, turkey hunting! When I say this lady hunts, you better believe it!
<![if !vml]>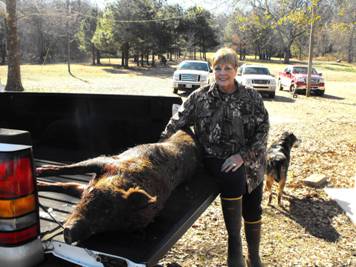 <![endif]>
Marian with one of the hogs she has hunted.
When she is not hunting, Marian enjoys living in her historic, civil war hometown of Vicksburg, which she considers to be hallowed ground. She is also a passionate photographer and has had some of her photographs published in the local newspaper, The Vicksburg Post. One of her sunset photographs even made the front page of the newspaper. Marian has lived in Vicksburg all of her life and is retired from the U.S. Army Corps of Engineers with 25 years of service. As we chatted a bit about a few other things, such as whether she liked the blues (she does) and if she had dined at the Walnut Hills Restaurant (she has and the food was awesome), the talk drifted back to hunting and the time she hunted with her grandson and he shot his first deer, a 5-point buck. "That was very exciting," Marian said. She also mentioned that one of her daughters also likes to hunt and they have hunted together on several occasions until her daughter moved to Wisconsin. There is no doubt that hunting is very much a part of this lady's life. You can read more about some of Marian's hunting adventures on her blog at Marian's Hunting Stories, etc. etc. etc...
<![if !vml]>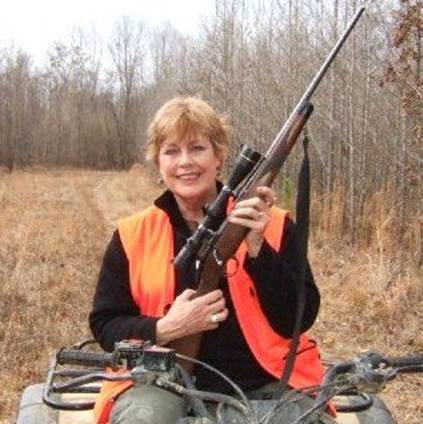 <![endif]>
<![if !vml]> Marian Ann Love<![endif]>
Soon to be 76, Marian has been hunting for over 30 years. She really can't explain why she loves hunting so, or why she seems to have a natural ability to do what she does. She is patient and selective in the animals that she shoots, and when she accomplishes her intended mission, it is exciting. Although she hunts primarily for food, and the hunt itself can be very exhilarating, hunting is much, much more to Marian. She is one with nature and God when she is in the woods, sometimes just watching, photographing and marveling at God's handiwork. You can sense the deep respect and kinship she feels toward the animals that she hunts. For Marian Ann Love, hunting is a blessing and she is thankful for what God has provided. In summing up how she feels about hunting, she simply said, "I feel like I'm in church when I'm in the woods."
--Rosalin Moss aka Mississippi Traveler
January 15, 2017