August 16, 2020
by Rosalin Moss
Ashford Photography & Films

Husband & Wife Team With The Perfect Shot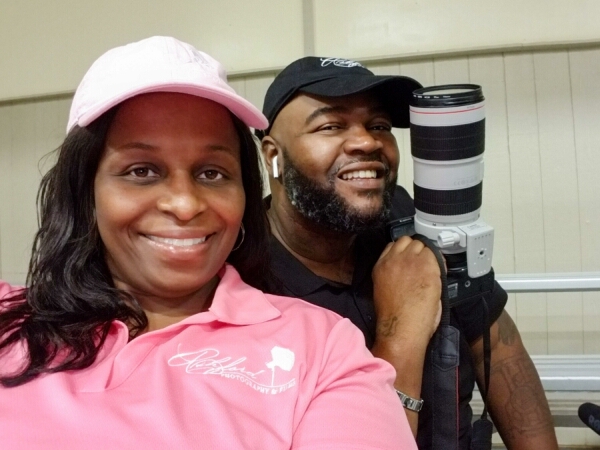 Rodney and Nikki Ashford, Ashford Photography & Films, Laurel, Mississippi
Website: https://ashfordphotoart.com/
Facebook: https://www.facebook.com/ashfordphotoart/
Instagram: https://www.instagram.com/ashfordphotoart/
Before Rodney Ashford met his wife Nikki, he had already reinvented himself more than once before emerging as a photographer and film producer. He never intended to be a photographer but stepped into the role out of necessity while pursuing a music career. With his music ventures currently on hold, he now spends a good chunk of his time taking and editing photographs for Ashford Photography & Films. Nikki is an active partner in the business and together they are carving out a good name for themselves in the community and state. With cutting edge equipment and creative know-how, the Ashfords are fast becoming one of the most sought-after photography outfits in the local and surrounding areas.

Rodney Ashford's first love was music, which he learned at the early age of three when he began playing the piano. He played the piano and sang at his church as a child. Although he taught school for a short while after graduating from college, he soon decided to pursue a music career and started his own music label, Po Boy Records. With little money to operate on, Ashford had to learn how to do many things himself, like recording, making CDs, and photography. He is grateful for his ability to learn quickly, "God gave me the ability to learn anything that I put my mind to," he said. The Po Boy Records label obtained some success when it started producing for a well-known artist named Afro Man. While traveling around the country promoting Afro Man's hit song "Because I Got High", Ashford found himself indulging in drugs to the point of becoming addicted. His addiction eventually caused him to lose everything he had, including his family, home, and overall livelihood. He failed at several rehabilitation attempts and ended up doing time in Mississippi's Parchman State Prison, where he almost lost his life when he was stabbed by another inmate. It was after his release from prison that Ashford made up his mind to turn over a new leaf and start living the right way.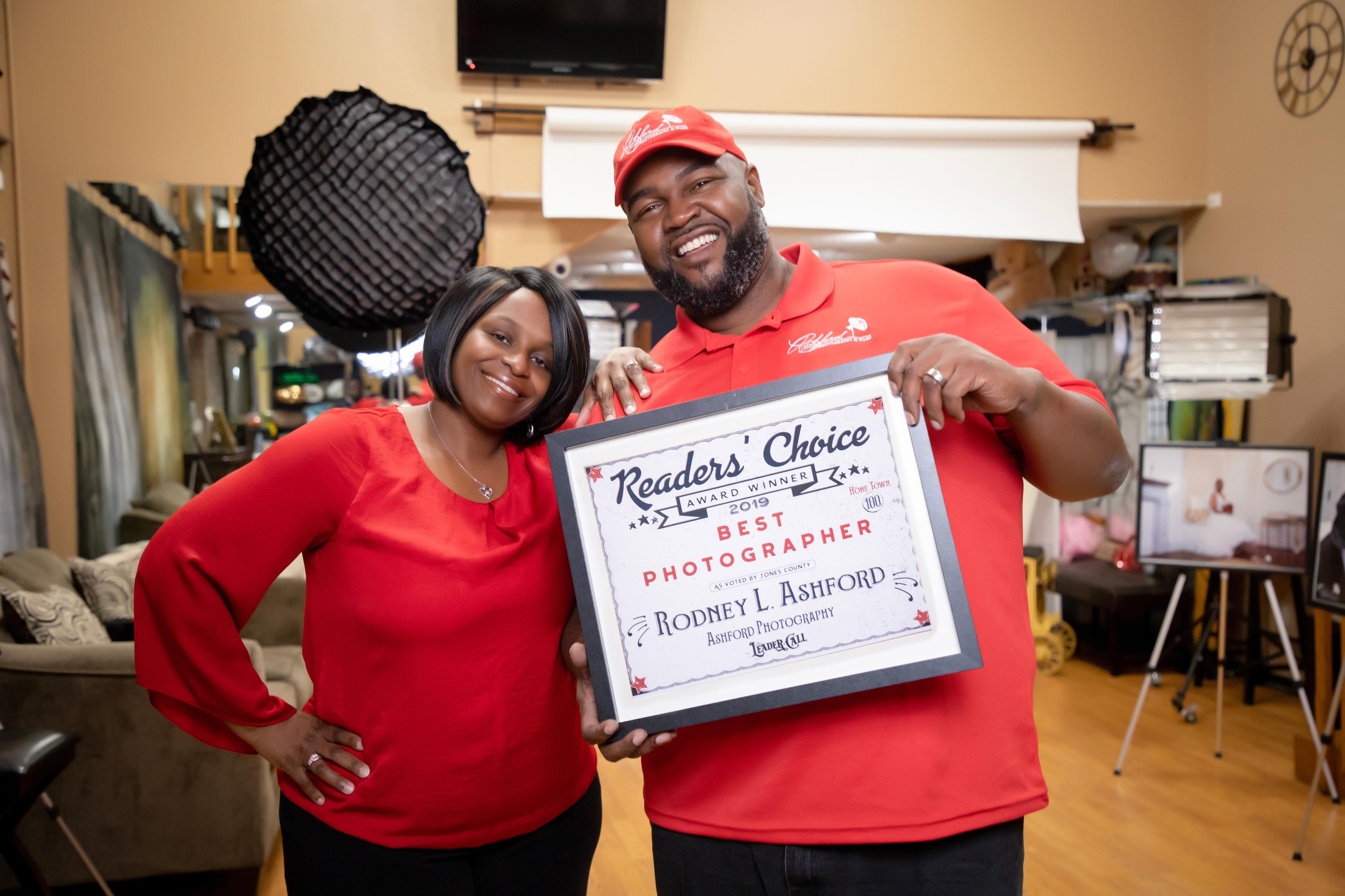 Readers Choice Best Photographer Award
Shortly after being released from Parchman, Ashford started a new gospel record label, Lord's Name Entertainment, which eventually led him to Christ's Church in Laurel, Mississippi, where he met his wife Nikki. "Ultimately, my gospel label failed, but I realized later that it was just a conduit for me to meet my wife," Ashford said. Someone from Christ's Church contacted Ashford about recording an Easter play, and although the church could not pay the price he quoted, Ashford was inspired to do the job anyway. When he arrived at the church, Nikki was onstage as one of the main characters in the Easter play. "When I got out of prison, I wanted to do better, and be better, and part of being better, I knew I needed a good help meet to help me get to where I wanted to be. That was one of my high goals, not just finding a girlfriend or a wife, but a partner is what I wanted. So when I saw her on the stage, and I was on one side of the camera and she was on the other side, I just watched her do her thing and I was really entranced." He is certain that it was divine intervention that led him to that specific church in Laurel.

Rodney wasted no time asking Nikki for a date, which ended up being at the bowling alley. "She beat my butt," Rodney admits. "Yeah, I did," Nikki said. "I bowl a lot and I actually love bowling. But we had a good conversation that day. I told him the worst things about me and he told me the worst things about him. And we were okay with that. And from there, we have just been together," she said. Rodney Ashford also did not waste any time asking Nikki to marry him. "Yeah, about four months after we started dating, I asked her to marry me. We met in May and got married in September."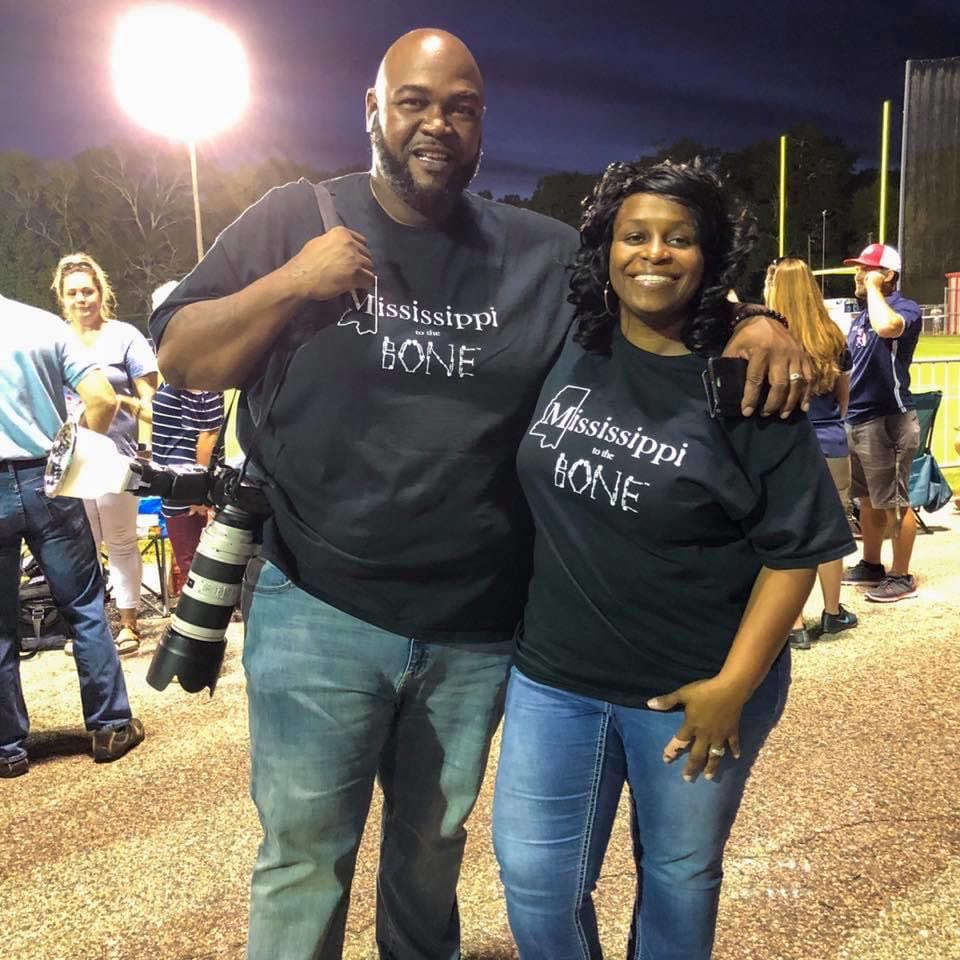 Rodney and Nikki Ashford wearing The Mississippi Club's Mississippi to the Bone t-shirt.
Together, Rodney and Nikki Ashford have established Ashford Photography & Films as a top-notch photographing and filming solution. "We've been in business for about right at three years now. We got a couple of employees, a nice studio, God has blessed us," Rodney says with gratitude. The Ashfords have also invested in state-of-the-art equipment that can handle any type of job at hand. But as much as he enjoys the photography business, there are some downsides that Mr. Ashford does not want to endure for the rest of his life. "I got into photography but I wasn't trying to get into it, that wasn't my plan. And I'm still not sure it's what I want to do. I know it's not what I want to do for the rest of my life. I have to work on my birthday, on Christmas. I really want to do things that are bigger than photography. Like I said, my true love is music. And I love doing video work, so we're in the process now of trying to put together some film work, some sitcoms, some short films, getting into some movie stuff, and writing some stuff and getting some people together and trying to get some ideas so we can actually do something." I pressed Mr. Ashford further and asked him exactly what is his ultimate goal? "I want to be a director. I want to be a television producer or a movie producer." I will not be surprised if film production becomes the dominant form of creativity for the Ashfords in the not-so-distant future.
When I asked Mr. Ashford what he would say if he could get the world to listen, he said, "Treat people right. I feel like what God wants more than anything for humanity is for us to love each other." He went on to add, "You gotta treat people right and with respect, you gotta treat people the way you want to be treated and God will bless you for that. If you are treating people wrong, you will never prosper."
An hour or so is not much time to really get to know someone, but I am convinced that you can determine more than one thing about a person by talking to them for just a short while. Hence, in the case of Rodney and Nikki Ashford, this couple is committed to each other and they are truly all-in partners when it comes to their photography business. They are much more than husband and wife or business partners, the Ashfords are a love story in progress. After being married for almost three years, I can still hear the awe and wonder of love in their voices and in how they speak to and about each other. In September, they celebrate the anniversary of their marriage with a special photo shoot, "We always do cool shoots together for our anniversary, it's become a tradition." So, be sure to check out their Facebook, Instagram and web pages in September to see what the special shoot is for 2020.
Although Rodney and Nikki went down different paths in life, they ended up on the same road in a church in Laurel, Mississippi. And now they are a good example of what can happen when two people put their minds and hearts together and work for a common goal. Although Nikki has a full-time job, she has fully embraced her husband's vision and is eager to help him bring it to fruition, not to mention that she also loves it. "I have learned a lot," she says. "I did my own event shoot and that is something I would not have been able to do a year ago." Both have traveled over some troubled waters on their way to becoming one. Both have children from previous relationships. Rodney learned some hard lessons but had the strength to overcome and the wisdom to know that finding a wife was a good thing. When he met Nikki, she had been divorced for several years and was secure in her singlehood, but she did not hesitate to step into her destiny with Rodney. They both believe that God is at the center of their union.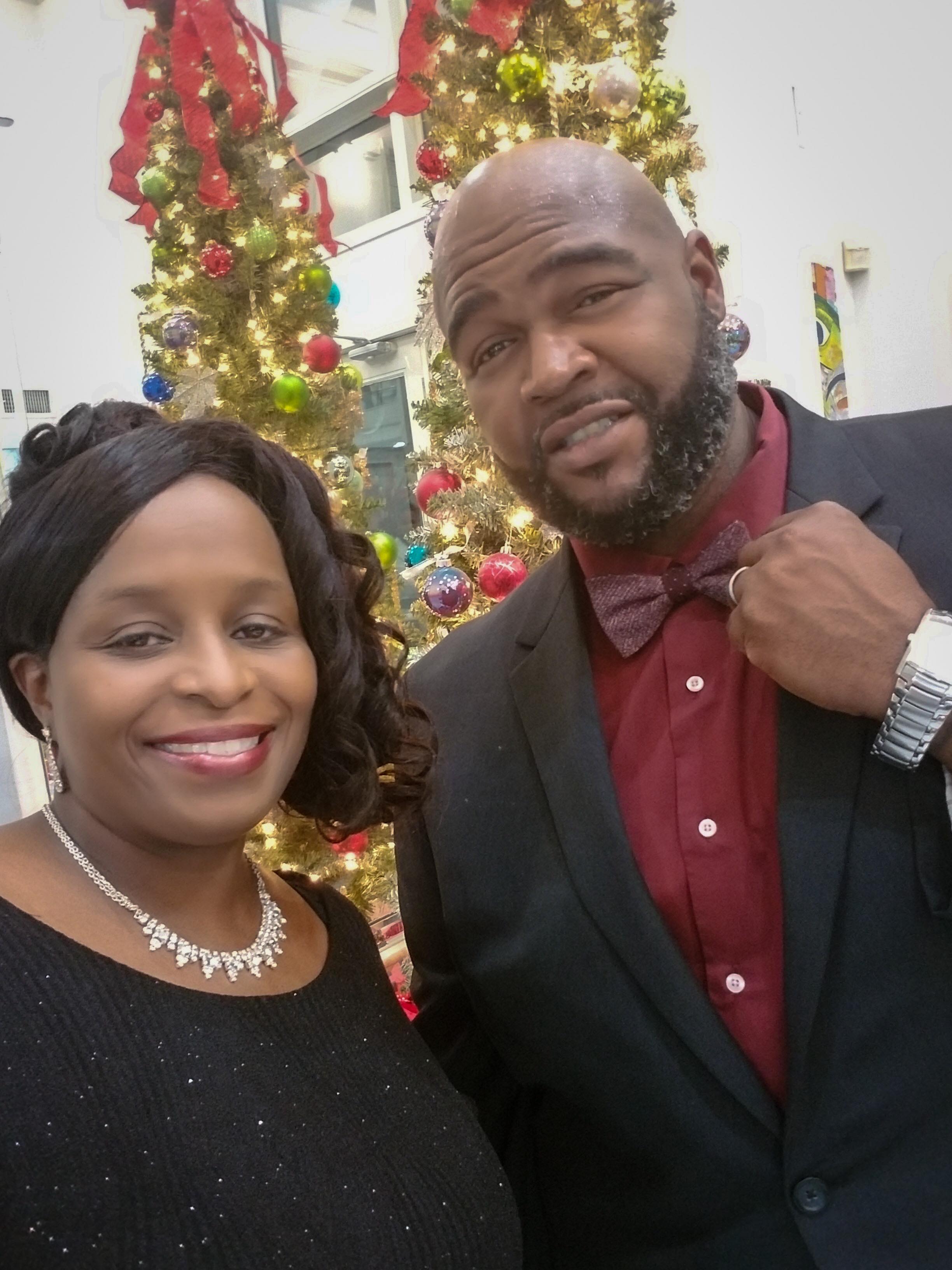 My initial expectation for this chat was to get some details on a testimony Mr. Ashford had shared on social media about some of his pitfalls and how he had made a comeback. But in addition to hearing more about Mr. Ashford's interesting journey, I got a glimpse into a beautiful love story. Talent, creativity, professionalism and courage, mixed with a big dose of love, is what makes Rodney and Nikki Ashford a real dynamic duo!



--Rosalin Moss
The Mississippi Club
August 16, 2020